The 91st meeting of the Board of Governors (BoG) of International Islamic University, Islamabad (IIUI) was held here on Monday, at Allama Iqbal Auditorium, Faisal Masjid campus of the university.
The meeting was chaired by Dr. Samina Malik, Rector IIUI / Chairperson Board of Governors of  the University. It was also attended by Vice Chairman of BoG and President IIUI H.E. Dr. Hathal Homoud Alotaibi and the honorable board members.
The board took important decisions in the meeting including the appointment of D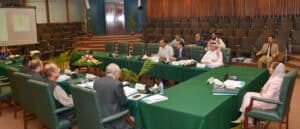 r. Abdul Raheman as Vice President Academics. It also approved the adoption of time pay scale of government for the employees of BPS 01 to 16. In the meeting, approval of the recommendations of the selection boards held from June 2022 to March 2023 in various disciplines was also given.
The BoG chair and the members approved the financial year 2023-24 budget as well as recommendations of the academic council on certain academic matters were also approved. In the 91st meeting, implementation reports of the 89th and 90th meeting of the the BoG were also endorsed.