"Digital Transformation and Organizational Leadership: Challenges and Opportunities"
ABOUT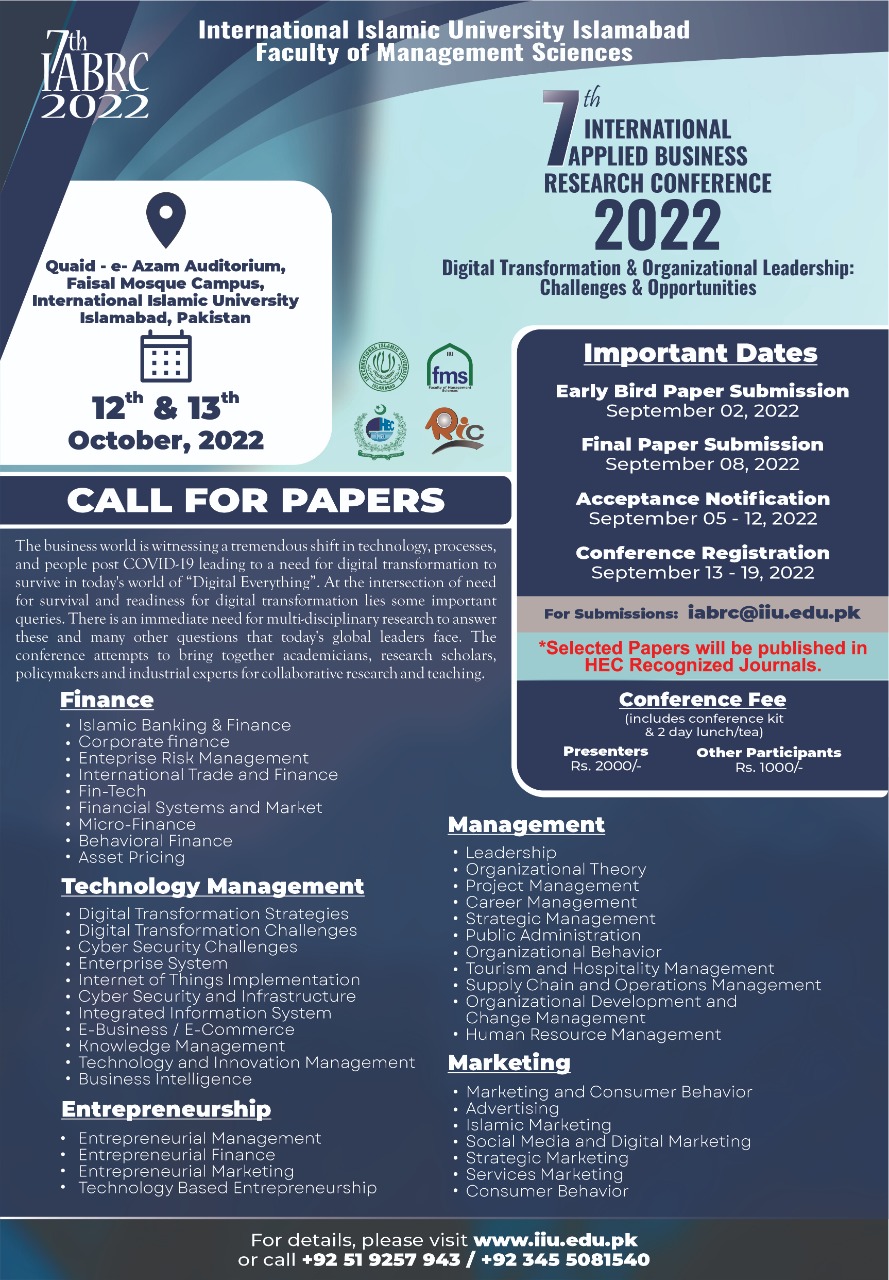 The 7th International Applied Business Research Conference (7th IABRC) is organized by the Faculty of Management Sciences, International Islamic University, Islamabad to be held on 12th & 13th October 2022 at Faisal Mosque Complex, IIUI, Islamabad. The business world is witnessing a tremendous shift in technology, processes, and people post COVID-19 leading to a need for digital transformation to survive in today's world of "Digital Everything".
At the intersection of the need for survival and readiness for digital transformation lies some important questions for the corporate world, such as, "how organizational leaders can ensure a smooth transition to industry 4.0 without risking profitability and corporate sustainability?" and "how organizations can exploit the plethora of opportunities that come with digital transformation and 4th industrial revolution?". There is an immediate need for multidisciplinary research to answer these and many other questions that today's global leaders face.
The conference attempts to bring together academicians, research scholars, policymakers, and industrial experts for collaborative research and teaching. Academics, practitioners, and civic and community leaders must collaborate to enhance research, teaching, and practice and make it relevant and meaningful.
OBJECTIVE
The goal of this conference is to build organizational leadership in the digital transformation era by discussing challenges and opportunities in the 4the Industrial Revolution.
This conference aims to develop a dynamic and supportive community of scholars and academicians by providing a platform to explore and share research ideas. This is a unique forum that offers various avenues in the fields of Business and Management Sciences that play a significant role in digital transformation. Working together, we can improve our communities and become more competitive in the current and future global demands of digital transformation.
SCOPE & TRACKS OF THE CONFERENCE
We look forward to your perspectives and contributions. Specifically, we invite empirical and theoretical research in the form of papers as well as posters that are relevant to the given scope and theme of the conference. Following are the main scopes/tracks for 7th IABRC:
1. Finance including sub-tracks
Islamic Banking & Finance Financial Systems & Market
Corporate Finance Micro-Finance
Enterprise Risk Management Behavioral Finance
International trade & Finance Asset Pricing
Fin-Tech
2. Management including sub-tracks
Leadership Diversity & Inclusion
Industrial Management Health Management
Organizational Theory International Business
Career Management Public Administration
Strategic Management Organizational Behavior
Corporate Social responsibility Business Ethics
Tourism & Hospitality Management Human Resource Management
Supply Chain & Operations Management Negotiation & Conflict Management
Project Management Organizational Development & Change Management
3. Technology Management
Digital Transformation Strategies Digital Transformation Challenges
Cyber Security and Infrastructure E-Business/ E-Commerce
Integrated Information System Business Intelligence
Big Data Analysis Digital Transformation and Governance
Business Analytics Knowledge Management
Digital Transformation After COVID-19 Technology & Innovation Management
4. Marketing
Marketing & Consumer Behavior Strategic Marketing
Advertising Services Marketing
Islamic Marketing Consumer Behavior
Social Media &Digital Marketing
5. Entrepreneurship
Entrepreneurial Management Entrepreneurial Finance
Entrepreneurial Marketing Technology-based Entrepreneurship
CORPORATE ADVISORY BOARD / ROUNDTABLE DISCUSSION
The purpose of the roundtable/panel discussion is to invite leaders, CEOs, Directors, and Policymakers to discuss this important theme considering their experiences and come up with innovative ideas and solutions to cope-up the challenges of digital transformation that are inevitable in today's competitive business world and advise on curriculum modifications. It will also help to make policy guidelines and strategies for a successful digital transformation in each area of business.
TRAINING WORKSHOP
This workshop aims to provide state-of-the-art training on the latest tools being used in management sciences research. The participants may include MS/Ph.D. students as well as faculty members. It will be comprised of two sessions on the following tools:
IMPORTANT DATES
Early Bird Abstract/Paper Submission: September 08, 2022
Final Paper Submission: September 2, 2022
Acceptance/Rejection Notification: 05-12, September 2022
Registration: September 13-19, 2022
Conference dates: 12th & 13th October 2022
SUBMISSION GUIDELINES
In general, we adhere to the style-sheet principles laid down by the American Psychological Association (APA) (for details on the 6th edition, please consult: http://apastyle.apa.org/). In preparing your paper, please pay close attention to the following:
Style
Please, try to make your paper as easy to read as possible. Use short headings and subheadings to make the structure of your article clear. If appropriate, illustrate your article with examples, diagrams, tables, etc. If you introduce a term that you think may not be familiar to some readers, give a short definition (if necessary, in a note at the end of the article or by adding a footnote).
Title, abstract, and keywords
Please give your article a clear and informative title (not more than 100 characters without spaces). Begin your article with an abstract of between 150 to 200 words summarizing your main points. The abstract should provide a summary of the paper and its fundamental findings and conclusions. Do not include references or notes in the abstract. The abstract should appear before the main text of the paper and after the title and author statements. Also provide a brief list of keywords, right after the abstract. When your article is published, the title, abstract, and keywords will be published in the e-journal's online index, and it is important that users of this index are able to locate your article among others dealing with related themes. Please use a basic, widely available font like Times New Roman, 12 points only.
Presentation
Articles should be original and should not include libelous or defamatory material.
All texts submitted by e-mail attachment should also have page numbers.
Acronyms should be explained in their first use, as in 'English as a Lingua Franca (ELF)', allowing the use of 'ELF' later in the manuscript. Not all readers will be acquainted with even the most basic acronyms. Explain each and every first occurrence of these acronyms so readers will not become lost in an alphabet sea.
Headings and subheadings
Type each heading and subheading on a separate line, ranged left. Please use numbering for headings and avoid excessive sub-division, as in '2.1.1.1.', for instance.
References in the text:
Citations in the manuscript should appear in APA-style format
Biographical note:
Please include a short biographical note (of about 50 words)
VENUE
Quaid-e-Azam Auditorium Complex, Faisal Masjid Campus, International Islamic University, Islamabad
CONFERENCE FEE
Includes conference kit and 2 days lunch/tea.
Presenters: Rs. 2000
Other participants: Rs. 1000
ACCOUNT DETAILS:
Account Title: IIU Own Sources A/C
A/C No.: 50067900428003
IBAN: PK49HABB0050067900428003
Swift Code: HABBPKKA
Bank Name: Habib Bank Ltd.
Branch Name: International Islamic University Branch
Branch Code: 5006
SUBMISSIONS AND REGISTRATIONS:
Fill the required google form for registration. Please keep a scanned copy of proof of payment as it will be required to submit the registration form.
Registration form link for presenters:
https://forms.gle/kKjzzmMwdPwLmVCp8
Registration form link for participants:
https://forms.gle/hU3a6gKoKHiZFEii8
Quantitative Research Workshop Registration Form:
https://forms.gle/8S7SJAi12VtKt6Pk8
IABRC SECRETARIAT
Faculty of Management Sciences
International Islamic University, Sector H-10
Islamabad, Pakistan
Email: [email protected]
Phone # 051-9257943
Cell # 0345 5081540