اللغة العربية
Akhbar e Tehqiq
IIUI Voice
Newsletter
Galleries
Picture | Video
Archives
FACULTY OF ARABIC HOLDS WORKSHOP ON RESEARCH METHODOLOGIES IN ARABIC LANGUAGE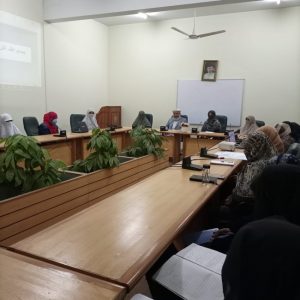 A training workshop titled "Research Methodologies in Arabic L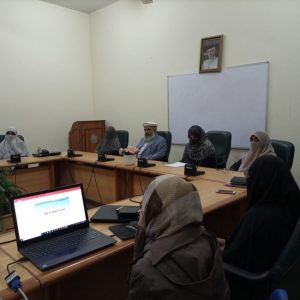 anguage" was organized by Faculty of Arabic at Female Campus. The main purpose of organizing this training workshop was to educate Researchers about different Research Methods and techniques.
The Inaugural session was addressed by the Dean, Faculty of Arabic, Prof. Dr Fazlullah who appreciated this effort and said that it is a golden opportunity for researchers as they constantly face problems in research. Through th
is workshop, they can overcome their gray areas in the field of research.
Dr. Aliya Akram, Chairperson-Faculty of Arabic (Female Campus) welcomed the participants and highlighted the importance of this workshop. She vowed that such workshops shall continue in future.
In this workshop various sessions were conducted on Research Methodologies by Resource Persons from the Faculty of Arabic: Among them were Dr. Aliya Akram, Dr. Zaheer Ahmed, Dr. Abdul Mujeeb,  Dr. Salma Sehole, Dr. Fouzia Mirtaj, Dr. Samia Nazish, Dr. Ghazala Shaheen, Dr. Sumaira Sagheer. A large number of research scholars and students attended the workshop.
IIUI RECTOR, PRESIDENT FELICITATE MUSLIMS ON COMMENCEMENT OF RAMADAN
International Islamic University, Islamabad (IIUI), Rector Dr. Masoom Yasinzai and President IIUI Dr. Hathal Homoud Alotaibi have wished to the Muslims in Pakistan and around the world a blessed and peaceful Ramadan.
In a joint felicitation message, both IIUI Rector and President have urged the Muslim youth to disseminate Islam's message of peace adding that fasting is all about patience, virtue and peace.  They said Holy month of Ramadan is an opportunity to get rid of societal issues and mal practices as it makes the minds, souls and actions as limpid as water. IIUI leadership hoped that Muslims across the world would be able to make Allah almighty happy and get his blessings by practicing the true spirit of the great month.
The message added that poor, ill and helpless people must not be left alone in this month of blessings and they be given top priority. IIUI Rector and President said It's a month to practice patience, self-control, ethical conduct, care for poor and needy and forgiveness. The said it is a great opportunity to revitalize Emaan and spiritual cleansing. It added that Ramadan provides us unique chance to have a look at ourselves, our routine, our objectives and our mere purpose of existence.They said that distribution of Zakat to the needy should be observed and said that the practice encourages economic equality in the society.
IIUI Rector and President urged youth and special the IIU students to observe SOPs (standard operating procedures) for collective prayers in mosques. They also called upon all the Muslims to adopt precautionary measures in view of the growing danger of coronavirus in the third wave. They also stressed upon Aima and religious leaders to forward the messages through mosques and madrassas to the people to abide by all precautionary and preventive measures regarding Covid-19. In the end, they prayed for a healthy Ramadan of whole Muslim world.
DIG SECURITY ICT CALLS ON IIUI PRESIDENT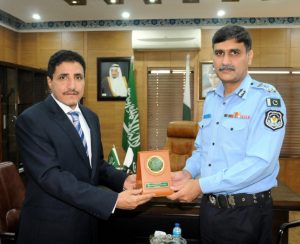 Waqar Uddin Syed, Deputy Inspector General Police, Security, Islamabad called on President International University Islamabad (IIUI) Prof. Dr. Hathal Homoud Alotaibi at his office.
In the meeting matters pertaining to mutual interests were discussed. The DIG appreciated the role of IIUI in promotion of education and said that International Islamic University Islamabad is one of the prestigious institutions of Muslim World that is providing quality education integrated with teachings of Islam.
IIUI President apprised of the university profile, vision and future goals adding that academic excellence and provision of quality education are the top priorities. He also lauded the services and dedication of Islamabad Police. He said the capital's peace indeed is due to the efforts of the Islamabad Police.
POLAND EMBASSY MULLS TO START ACADEMIC EXCHANGE PROGRAM WITH IIU: AMBASSADOR PIOTR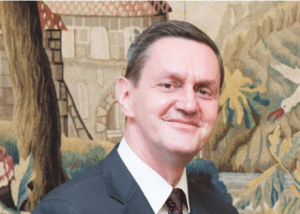 Mr. Piotr A. Opaliński, Ambassador of the Republic of Poland has said that the Poland Embassy is planning to start an academic exchange program with International Islamic University, Islamabad (IIUI).
This he said during an online lecture on the "Poland-Pakistan relations" here at the Faculty of Social Science of the university. The students and faculty members from the Faculty of Social Sciences (FSS) attended the lecture.
Mr. Piotr shared that the Polish embassy at Islamabad-Pakistan has also initiated several projects in education sector in provinces, Khyber Pakhtunkhwa, Sindh, and the capital territory of Pakistan, Islamabad. The Ambassador said that the Polish embassy is keen to  promote academic exchange programmes in both the countries.
Mr. Piotr A. Opalinski said that the relations between Pakistan and Poland are very friendly. Poland gives value to its relationship with Pakistan as the ties are based on mutual trust an
He said that two countries' political, economic and cultural cooperation is advancing significantly with the passage of time. He added that current trade volume between the countries is reaching a half-billion Euro and also, there are good prospects for the further growth of bilateral trade.
Prof. Dr Amna Mahmood, Dean, FSS, expressed her deep gratitude and highlighted the cor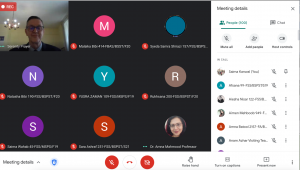 dial relation between Poland and Pakistan adding that when Pakistan was confronted with war and natural disasters, Poland was always there to support the country in every possible form.
Prof. Amna shared that the students of International Islamic University, Islamabad, are keen in getting higher education in the Polish universities. However, due to some obstacles in acquiring EU scholarships, they could not proceed further for higher education. She suggested the Ambassador to minimize the hurdles for getting the EU scholarships. Prof. Amna also suggested that we may initiate future collaboration among Pakistani and Polish universities in comparative religion, comparative culture, Islamic study and Middle Eastern study.
At the end, students from the Faculty of Social Sciences asked questions related to Poland and Pakistan diplomatic relations, higher education programs and potential opportunities in the related discipline.
IRD HOLDS WEBINAR ON "SOME REFLECTIONS ON PAKISTAN RESOLUTION 1940 and ITS SIGNIFICANCE"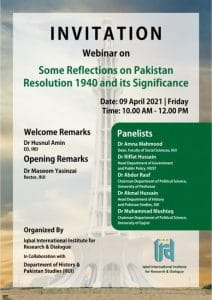 Iqbal International Institute for Research and Dialogue (IRD) organized a webinar on "Some Reflections on Pakistan Resolution 1940 and its Significance". IRD organize this activity in collaboration with Department of Pakistan Studies and History.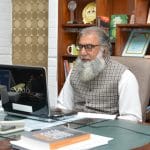 Rector, IIUI Dr. Masoom Yasinzai in his remarks said that it is time to unite and to work collectively and selflessly for the greater cause of peace, prosperity, justice, freedom, equality of our countrymen.
He said that objective resolution demads that we must ask ourself that have we delivered and what contributions have we made for the progress of this sacred homelamd.
"Let's unite, let's work hard and change the destiny of our countrymen" he said.
He further added that no doubt our land is facing numerous challenges such as poverty, corruption, and unemployment and resource mismanagement. He furthered that we must come forward and play our roles to overcome these challenges.
IIUI Rector appreciated the efforts of the Iqbal International Institute for Research and Dialogue, IIUI and department of History and Pakistan Studies, IIUI for holding the webinar on such an important topic.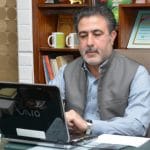 The event was also adressed by Dr. Husnul Amin, Executive Director, IRD who highlighted the importance of topic and IRD's efforts for research, Dialogue and ideology of Pakistan.
Panelists of Webinar included, Dr. Riffat Hussain, Head Department of Government And Public Policy, NUST, Dr. Abdur Rauf, Chairman Department of Poolitical Science, University of Peshawar, Dr. Akmal Hussain, Head Department of History and Pakistan Studies, IIUI, and Dr. Khwaja Alqama.
IIU PRESIDENT CHAIRS MEETING OF DIRECTORATE OF DISTANCE EDUCATION'S CORE COMMITTEE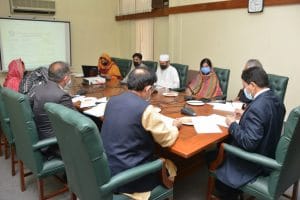 H.E. Dr. Hathal Homoud Alotaibi, President, International Islamic University (IIU) on Friday chaired a meeting of the Core Committee of Directorate of Distance Education at Faisal Masjid Campus.
The meeting was also attended by Prof. Dr. N.B. Jumani, Vice President (Administration, Finance and Planning) and rest of the members of the committee.
In the meeting, the committee discussed agenda items on lecture recording, studio set up and course uploading on the web portal. A briefing and the demonstration of the online learning portal was also given to the chair regarding the operations of the portal, theme, lay out, options, user friendly interface and other important features.
The committee also recommended that soon a meeting shall be held for scrutiny and importance based identification of the courses. It was also agreed that in near future a meeting of the committee with the Deans of all the faculties will be held on the topic of online learning. The committee also discussed matters pertaining to establishment of an exclusive recording studio at the old campus.
During the meeting, the IIU President directed that speedy arrangements be made for launch of the online degree and diploma programs. While appreciating the efforts of the committee, he desired that the final stage of the execution of the project should be completed as soon as possible.
Dr. Hathal said that university is committed to working hard for delivering quality education and producing knowledge in line with the aspiration of Muslim world. He said that online education is the need of hour.
IRD'S NEW STUDIO, RENOVATED ROOM INAUGURATED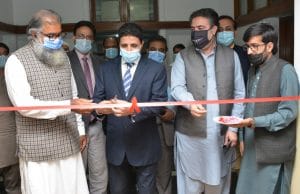 International Islamic University (IIU) Rector Dr. Masoom Yasinzai and President Dr. Hathal Homoud Alotaibi , while inaugurating the digital studio and renovated conference room at Iqbal International Institute of Research and Dialogue  (IRD) have vowed that the university will leave no stone unturned to meet all the contemporary requirements for provision of quality education by adopting all the latest technological developments.
"Corona gave us challenge, hiatus was not an option, we responded back and now university is all set to introduce online degrees" , said Rector IIU while hailing the addition of a new studio at the IRD. He desired that the studio facility is a must in the prevailing situation in every faculty so that the dissemination of the message across the masses and the students be exquisitely made. He appreciated the efforts of the IIU President for the online and distance learning and hoped that soon university will have international repute for its ODL based eduation.
Speaking on the occasion, Dr. Hathal Homoud Alotaibi said that IIU is going to launch diploma and degree programs through its Directorate of Distance Education. He said these are the high times when we may reach to the maximum people across the world and we may introduce our best faculty and researchers with the top institutions. He added that following the varsity's ongoing ODL based policy, soon more international conferences and seminars will be held, while he mentioned same is being done by utilizing the available resources in best manner. Dr. Hathal said that IRD is one of the very important units of the university that is focused on promotion of dialogue and a new strategic plan keeping in view its scope is being prepared.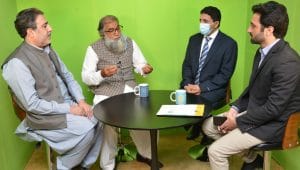 On the occasion, Vice President (AF&P) Dr. N.B Jumani said that university is heading towards an exquisite online education based system and it is also mulling over blended mode of education. Vice President (Academics) Dr. Ayaz Afsar said that the studio and the conference room are very useful additions into the university resources and it will be proved as a great contribution in the present situation. Vice President (HS&R ), Dr. Ahmed Shuja Syed said that IRD as per its scope has exemplary services and now its activities, through online mode, are being hailed across the world.
Dr. Husn ul Amin, Executive Director IRD, while thanking the university leadership  said that the institute is focused on outreach programs and it is also focusing on the societies where Muslim are in the minority. He said the institute, as per directions of the IIU President is also working to deal with the challenge of Islamophobia through research and dialogue.
IIU, PITB JOIN HANDS TO ESTABLISH NATIONAL FREELANCE TRAINING CENTER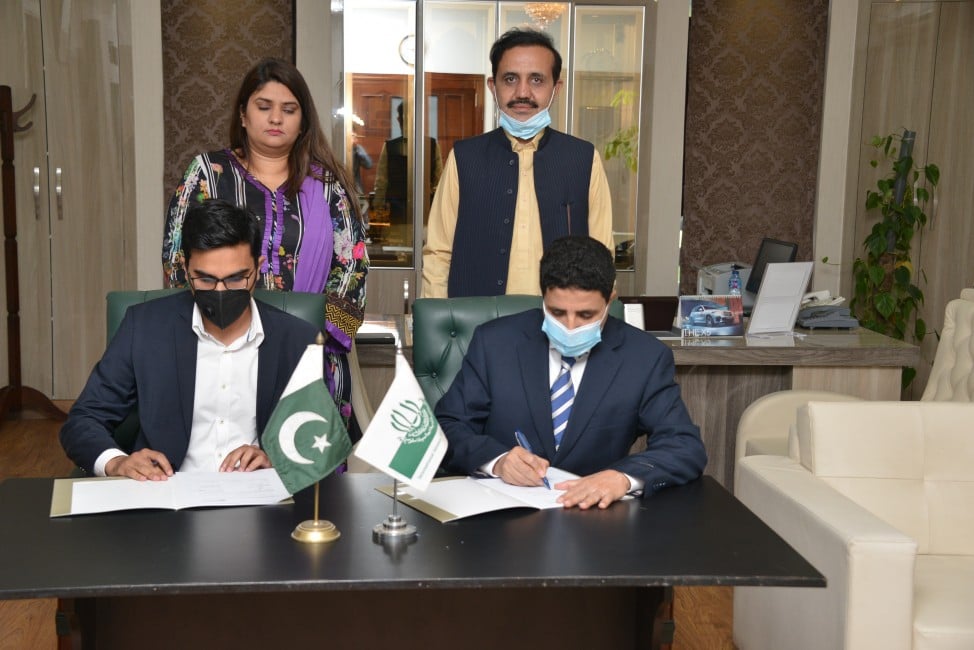 International Islamic University, Islamabad (IIUI) and Punjab Information Technology Board (PITB) signed an agreement for establishment of National Freelance Training Center (NFTC) at the university.
In the center, freelancing training will be provided to youth to empower them for employment. It will be focused on producing skilled and digitally aware human resource. The agreement is aimed to promote technology and entrepreneurship across the country. Both the university and the board have agreed to jointly work for main streaming the digital skills.
The MoU signing ceremony was held at the Faisal Masjid Campus of the University which was joined by IIU President H.E. Dr. Hathal Homoud Alotaibi who also signed the document. Representatives of the PITB Project Management Unit Qumbar Ali & Naila Mehmood were also present on the occasion. It was also attended by the Vice President Administration, Finance Planning, IIU, Prof. Dr. N.B. Jumani along with the Incharge IT, IIU Qazi Shehzad  Saleem.
While addressing the event, IIU President called upon universities that they must contribute in the construction of the society and they must work as per needs of the hour. He expressed that youth are the agents of change. He added that investing in the nation's youth will open new avenues of economic stability through digital transformation. He opined that the partnership will prove to be a stepping stone towards a new era of digitally equipped youth.
He also apprised the PITB officials that IIU is already focusing on E-Governance and soon it will adopt the paperless E–Governance based system. Dr. Hathal furthered that the prevailing situation has doubled the im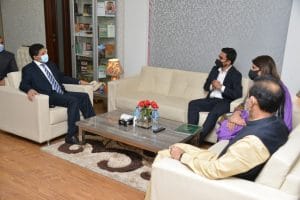 portance of Online Distance Learning and IIU is keen to promote it by producing the online and distance learning based courses and degrees with the utilization of latest sources of technology.  He opined that both IIU and PITB have shared goals and the MoU will be a milestone to work for the cause of provision of quality education with the usage of technology.  He also told that the university is also keen to open its branches in the provinces.
The representatives of PITB said on the occasion that the Board's other initiatives such as Incubation Centers at universities, course of various fields and promotion of E –Governance can be jointly worked with positive results by both sides. They apprised that the board has already graduated 1500 students in the online batches and it is striving to promote digitization.
On the occasion, Dr. N.B.Jumani told that IIU will be the pioneer university to adopt the E-office app launched by Ministry of Information and Technology. He said that the NFTC will help in promoting capacity building of youth involved and will also provide sustainable income opportunities by playing a pivotal role in creating new jobs.
RESEARCH WORKSHOP ORGANIZED BY THE DEPARTMENT OF ENGLISH, FEMALE CAMPUS
Department of English, Female Campus (FC) organized a "Women Early Career Research Workshop"  that was designed to promote original new research on South Asian women's writing and advance next-generation women scholars' research careers.
The three-day event uniquely combined specialist talks and workshops by leading researchers and writers with a dedicated programme designed to train young women researchers in academic writing, publishing and securing research funding, developing networking provide one-to-one mentoring.
"Women Writing Pakistan: Gender in the South Asian Literary Landscape" is a collaborative project between International Islamic University, Islamabad and Teesside University, UK.  It is led by Dr Rachel Carroll, Dr Madeline Clements and Dr Munazza Yaqoob and is funded by the UK Global Challenges Research Fund via Teesside University.
Twenty-five delegates (MS/PhD scholars) from different parts of Punjab, KPK and Baluchistan attended the workshop. The workshop included sessions by British and Pakistani scholars and academics such as Dr. Rachel Carroll, Dr. Fiona Tolan, Dr. Madeline Clements, Dr. Ghazala Kausar, Dr. Neelam Jabeen, Dr. Saiyma Aslam, and Dr Munazza Yaqoob. The sessions included topics such as "Adapting MS/PhD Thesis into Journal Article", "Developing Your Research Profile", "HEC Research and Funding Opportunities and Proposal Writing" and "Research Networks and Academic Communities", and "Academic Writing" etc.
The three keynote speakers included Muneeza Shamsie (author of Hybrid Tapestries: The Development of Pakistani Literature in English and editor of And The World Changed: Contemporary Stories by Pakistani Women), Bushra Iqbal Malik (writer, founder of Pakistan Women Writers' Forum/Young Women Writers' Forum), Dr. Salma Masood (Co-founder of Pakistan Women Writers' Forum/Young Women Writers' Forum) and Professor Shirin Zubair (Kinnaird College for Women, Lahore).
One of the workshop's distinctive features was the one-to-one mentoring sessions organized to provide comprehensive feedback to the delegates who had submitted journal articles. The delegates were offered detailed reviews on the pattern of international peer-reviewed journals and valuable insights to improve their research articles. The articles written by the delegates focused on different aspects of contemporary fiction by Pakistani women writers such as Kamil Shamsie, Uzma Aslam Khan, Fatima Bhutto, Sara Suleri, and Qaisera Shehraz etc.
One of the most significant outcomes of the "Women Writing Pakistan: Gender in the South Asian Literary Landscape" project is establishing a fully equipped, state of the art, Smart classroom in the Department of English, Female Campus. The smart classroom will serve as an essential resource for young women ECRs in IIUI. In addition to the workshop's training and development opportunities, ECR delegates have also been awarded one year's free postgraduate membership of the Contemporary Women's Writing Association and one year's free online subscription to the Journal of Postcolonial Writing.  These benefits are designed to support their research and career development and enrich their Writing Workshop experience.
IIU ESTABLISHES SUPPORT SYSTEM
In order to address all queries and issues of end users (students/employees), a web portal named as Support System has been launched online at https://support.iiu.edu.pk. Everyone who has an IIU email can use this system to lodge the query. These queries can be assigned directly to the relevant department by choosing the respective department in category section. The system will help in making system more transparent and efficient. All issues reported on this system will be available to top management in their respective dashboards.
A short video tutorial "How to use Support System" is also posted on the IIUI official facebook and twitter accounts that can be viewed through following links:
In order to address all queries and issues of end users (students/employees), a web portal named as Support System has been launched online at https://t.co/bd1gHKF7YO.

For a short video tutorial "How to use Support System", click here:https://t.co/zKWyMFf87X

— IIUI (@IIUI_OFFICIAL) April 8, 2021