A TOTAL OF 26992 DEGREES, 484 GOLD MEDALS AWARDED TO GRADUATES IN TWO-DAY CONVOCATION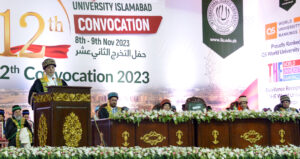 H.E. The Pro-Chancellor of International Islamic University ,Islamabad (IIUI) and President of Imam Muhammad Ibn Saud Islamic University, Dr Ahmed Salem Muhammad Al-Ameri conferred gold medals and degrees on female students in the second session of the 12th convocation of university.
On the second day 147 gold medals were awarded to the female students by the chief guest. In the 12th convocation of IIUI, as many as 26992 graduates received the degrees that included 12817 male and 14715 female graduates. The University conferred 739 PhD degrees on the male and female students, while a total of 484 students were awarded gold medals in the two-day long mega event.

In his speech, Worthy Pro-Chancellor congratulated the new graduates and said by obtaining degrees, they were stepping into their practical lives. He appreciated the initiatives of President IIUI, Dr. Hathal Homoud Alotaibi saying that the university was heading to the right direction in his leadership. He also mentioned that Custodian of the Two Holy Mosques His Majesty King Salman Bin Abdulaziz and His Royal Highness Princess Mohammed Bin Salman give great importance to ties with Pakistan. He also told that the Saudi Government has been keen to introduce the scholarships through a detailed program. Being the President of Imam Muhammad Ibn Saud Islamic University he said they have close connection with IIUI and Imam Muhammad Ibn Saud Islamic University is always eager to expand bilateral ties with educational institutions across the world.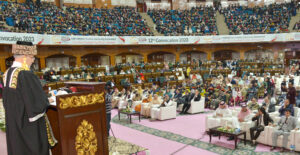 He hoped that the future will witness more programs and conference with the joint ventures and exchange of delegations between IIUI and Imam Muhammad Ibn Saud Islamic University. He said depoliticization of the educational institutions is a pre-requisite for the constructive results. He urged the faculty to produce highly skilled youth inculcated with teachings of Islam. He stressed that we need to learn from the experiences of others and we must make research our top priority.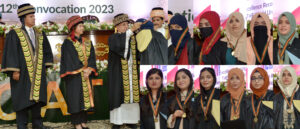 Rector IIUI Dr Samina Malik while congratulating the students said that "My warmest congratulations to our graduates on this celebratory day. Your hard work, commitment, and efforts have led you to earn your degrees". She said that he IIUI was imparting education in hundreds of professional disciplines making it one of the best institutions in the world. She said to fulfil our mission of equipping our students with the emerging knowledge, we have revamped entire curriculum across 11 faculties and introduced the modern branches of sciences. She said that the President of the University, Dr. Hathal Hamoud Alotaibi has been actively pursuing this agenda. His efforts like new organogram, decentralization, strategic planning have started yielding fruits in the shape of improvement in national and international ranking. Undoubtedly, the patronage of Prof. Al- Ameri has provided multiple strength, she added. "I would also like to express gratitude to Khadam-e-Harmeen Sharifeen and government of Saudi Arabia for their invaluable support to our university" she said.

The IIU President Dr Hathal Homoud Alotaibi highlighting the 2022-26 Strategic Plan, said the university had taken multiple initiatives to modernize the teaching process. He thanked the Saudi government for supporting the institution adding more details he informed that under this continuous support teachers from Saudi Arabia have arrived and teaching at the varsity, while more will come to join us for same purpose.

He told the ceremony that work on Campus Management Project had been completed to convert the varsity on electronic system and that quality department had been transformed into quality and development directorate. Heave a detailed report of the infrastructural and academic excellence based reforms of university in previous three year I the light if the strategic plan. He said the university management focuses on decentralization, digitization and infrastructural plans to make IIUI a real international institution. He thanked H.E. Dr Ahmed Salem Muhammad Al-Ameri for his visit to IIUI from Saudi Arabia for the convocation of university.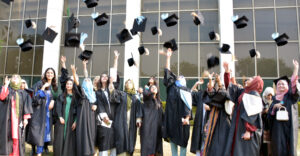 On the occasion, Vice President Academics, Prof Dr. Abdul Raheman thanked IIUI leadership, efforts of all the teams, faculty, officers, staff members and students for untiring efforts to make this convocation memorable and exquisite.