The Department of Physics, Faculty of Sciences of International Islamic University Islamabad hosted the Students' Convention on Peaceful Uses of Nuclear Technology which was organized in collaboration with the Pakistan Nuclear Society (PNS). The convention aimed to educate and inspire students about the advancements and opportunities in the field of nuclear science and technology within the country.
Eminent scientists from various institutions shared their invaluable insights and experiences during the convention, motivating the students with their remarkable achievements despite limited resources and no foreign assistance. The experts' lifelong dedication to the nuclear field served as an inspiration to the aspiring young scientists in attendance.
The convention included an engaging question and answer session, moderated by Mr. Waqar A. Butt, the Vice President of PNS. Students enthusiastically participated, posing thoughtful and insightful questions that were met with well-reasoned responses from the panelists.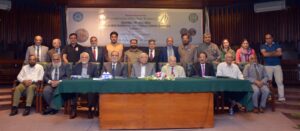 Additionally, Professor Dr. Farida Tahir, professor at COMBATS University, shed light on the upcoming International Young Physicists Tournament (IYPT), fondly known as the "Physics World Cup." This prestigious competition will be hosted for the first time in Pakistan in over three decades, taking place at Kohsar University in Murree in July 2023. Students were encouraged to seize this remarkable opportunity to showcase their talents on an international platform.
The convention also provided a platform for student representatives to share their thoughts and suggestions regarding PNS initiatives. Tahir Taj from the International Islamic University, Madeeha Bibi from Hazara University, and Hamza Khan from Air University, Islamabad, eloquently expressed their gratitude and offered helpful suggestions, emphasizing the importance of aligning PNS activities with student aspirations.
In recognition of their exceptional abilities, Ms. Aysha Yasmeen from the International Islamic University Islamabad, Ms. Ishrat Fatima from the University of the Punjab, and Mr. Faraz Ahmed Mahar from the University of Sindh, Jamshoro, emerged as the top three winners of the PNS speech competition on "Global Warming and its Effects." Their articulate presentations captivated the audience and highlighted their deep understanding of the subject matter.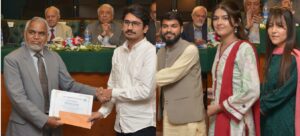 Furthermore, Mr. Muhammad Haroon Farooqi from Quaid-e-Azam University, Islamabad, received the second prize in the article writing competition. A total of 25 students competed in the speech competition, while 49 students demonstrated their writing prowess by participating in the article writing contest.
The convention concluded with profound remarks by Professor Dr. Muhammad Irfan Khan, the Dean of the Faculty of Sciences at the International Islamic University Islamabad, and a vote of thanks from Dr. Mohammad Mohsin, the General Secretary of PNS. Their closing words emphasized the significance of fostering innovation and exploration in the field of nuclear technology, encouraging students to pursue their passions and contribute to the nation's progress.
The Students' Convention on Peaceful Uses of Nuclear Technology organized by PNS and Physics Department of the university proved to be an enriching and enlightening experience for all attendees, leaving them inspired and eager to embark on their scientific journeys.