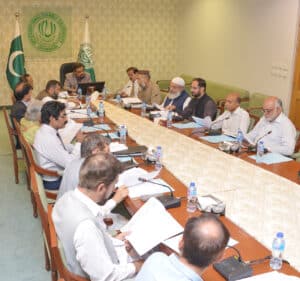 Prof. Dr. Ahmed Shuja Syed, Vice President (Research & Enterprise) of International Islamic University Islamabad (IIUI) chaired the 6th meeting of Board of Advanced Studies (BASR-06) of the year 2023 on Thursday in the Council Hall of Administration Block, IIUI.
The meeting was also attended by Prof. Dr. Nabi Bux Jumani, Vice President (A&F), , Prof. Dr. Nadeem Ahmed Shaikh, Dean FET / Secretary (BASR), Prof. Dr. Amir, Director, ORIC, Director (Academics & Examination), Prof. Dr. Muhammad Khan, Deans of the faculties and other relevant Officials of IIUI.

On this occasion the board members also shared valuable suggestions with the Vice President (R&E), IIUI. The Vice President discussed matters as per the agenda of the meeting and urged faculty members to promote a culture of research and guide students to conduct the research with a focus on societal needs.
The Board discussed and analyzed synopses' of PhD and MS students of university. The Board also issued instructions for students regarding research work.