Federal Minister for Planning, Development and Special Initiatives Ahsan Iqbal said hatred, extremism and intolerance are major obstacles in the way of peace, national unity and sustainable economic development in country.
He was addressing an international Islamic peace conference on national accord for peace, inclusive education, social reconstruction and sustainable economic development organized by the Islamic Research Institute (IRI) of the International Islamic University (IIUI) held here at Faisal Masjid.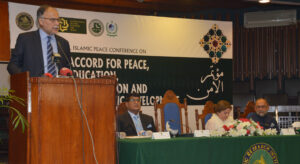 He said that after escaping a terrorist attack I decided to save the youth from hatred and terrorism. He said that the virus of hatred in the human mind destroys intelligence and its ability to think in a positive way.
Ahsan Iqbal said that the base of conflict and violence is prejudice and intolerance as it leads to extremism. The federal minister said that the success of any nation depends on the utilization of collective capacity. He further said that polarization is the biggest enemy of national unity. He said investment must be continuously provided with a favorable environment.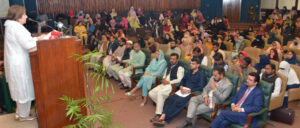 Referring to the terrorism's impact on the country he said Pakistan has lost thousands of lives and billions of dollars due to extremism. Ahsan Iqbal said development and progress is impossible without peace and stability. "Eradicating hatred has become a social challenge" he said. He advised youth to promote peaceful co-existence and emphasized that the manners of disagreement need to be made common in the society.
On the first day, speakers and presenters attended various thematic sessions on Peace, Islam and Pakistan as well as they presented papers on the role of women and media in peace building, importance of national accord for peace, peace and social reconstruction.
Addressing the conference, MNA Shaista Pervaiz Malik said social cohesion with ample access to opportunities is imperative. She opined Pakistan has one of the most strategic and important geographic settings across the world, it has abundance of natural resources, all such opportunities must be used as we have all the potential to shine.  She said inclusive education and social reconstruction are key components for sustainable development. She hailed substantive efforts of IRI and hoped that the conference would bring practical and research based recommendations to solve the challenges.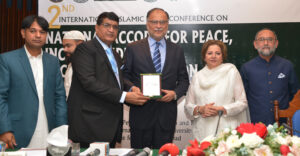 Director General IRI Dr. Muhammad Zia ul Haq in his welcome address apprised of the details of the conference. He said this conference and accord is an initiative of honorable Minister Ahsan Iqbal and IRI that is indeed a new step to take Paigham e Pakistan to a new destination. He elaborated that the conference is based on themes of Pakistan's challenges, Pakistan's response towards challenges and way forward. He thanked Ahsan Iqbal, guests and speakers for his continuous support.
Abdul Quddous Sohaib, Director Islamic Research Centre, Bahauddin Zakriya University, Multan highlighted the aims and objectives of the conference.  He said this mission of IRI to disseminate peace is to reconstruct society.