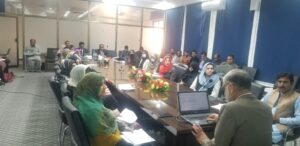 A two days research training workshop was organized by Faculty of Education, International Islamic University Islamabad (IIUI). The objective of the training programme was to enhance the vision of MS and Ph.D scholars about academic writing skills.
Prof. Dr. N. B. Jumani (Vice President, Administration & Finance) and Prof. Dr. Samina Malik (Vice President, Female Campus) also attended the workshop as guests of honor. On this occasion, Prof. Jumani sensitized the scholars about quality of research and briefed them about the vision of Prof. Dr. Hathal Homoud Alotaibi, President IIUI regarding quality of research. Dr. Jumani appreciated the efforts of Dr. Muhammad Sarwar, Dean, Faculty of Education and faculty members for organizing this training programme.
During the workshop, Prof. Dr. Samina Malik VP, Female Campus, motivated the scholars to get maximum benefit from this opportunity to improve their academic language skills.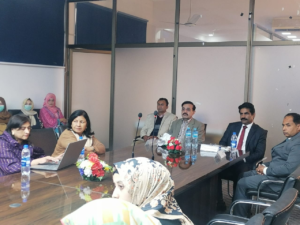 Prof. Dr. Muhammad Sarwar Bajwa was the trainer of the workshop. Dr. Sarwar shred key points about development of academic language skills to and involved the workshop participants in different writing activities. Fifty MS and PhD scholars participated in the workshop.
Prof. Dr. Muhammad Sarwar paid special thanks to the Vice Presidents for taking keen interest in affairs of the faculty of education. He emphasized over searching out the gap related to training of scholars for improvement purposes. Dr. Sarwar further added that the development of language skills and clarification of concepts help out researchers to remain focused to research outcomes.  The guests of honor advised the faculty of education to organize more such workshops in future. Dr. Muhammad Zafar Iqbal, Assistant Professor, Department of Teacher Education, Faculty of Education was the focal person of the workshop. Dr. Azhar Mehmood, Chairperson, Department of Educational leadership and Management, Dr. Shamsa Aziz, Chairperson, Department of Teacher Education and faculty members also attended the workshop.