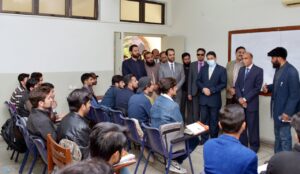 H.E. Dr. Hathal Homoud Alotaibi, President International Islamic University Islamabad (IIUI), visited the International Institute of Islamic Economics (IIIE) where he held a meeting with the faculty and also talked to the students.
President IIUI lauded the pioneering role played by the Institute since its establishment and hailed that institute was expanding its work utilizing the existing resources. On this occasion the President, IIUI also met with faculty members during a meeting and visited various classes and advised to remain consistent during academic and research activities as acquiring academic excellence at national and international levels is our top priority.  IIUI President addressed to the students on the occasion and stressed upon them to be committed to the teachings of Islam as well as academic subjects.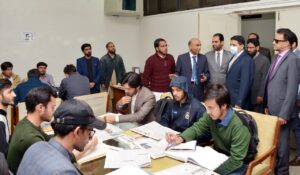 Prof. Dr. Abdul Rashid Director General of the Institute expressed his sincere thanks on this occasion and vowed that the institute is committed to achieve the goals and objectives under the vision of President, IIUI. He said that the university has achieved several milestones under the leadership of President IIUI in the light of the strategic plan of the university. During the meeting DG IIIE also briefed about IIIE's two schools and one department and shared in detail the progress of the institution.
On this occasion, Vice President Administration and Finance, Prof. Dr. N.B. Jumani, Vice President Research and Enterprise, Prof. Dr. Ahmed Shuja Syed, Vice President Academics, Prof. Dr. Ayaz Afsar and Prof. Dr. Samina Malik, Vice President, Female Campus, IIUI also accompanied him.