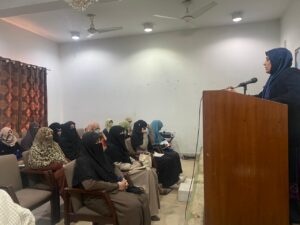 Director General Shariah Academy Dr. Farkhanda Zia has said Islam gave higher importance to women and they can play a pivotal role in dissemination of Islam's message of peace.
She expressed these views while inaugurating the new office of the Dawah Centre for Women ( DCW) at the female campus. She said that DCW has been serving the society in the best manner for the last 25 years. She said women have equal importance in society and they must play their role in building the society, especially their role as mother is of great importance. She hailed services of the Incharge DCW Dr. Faryal Ambreen said that she has been dedicatedly taking care of this center.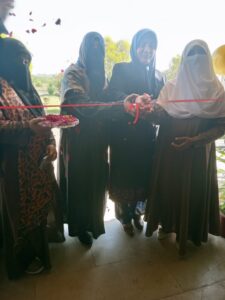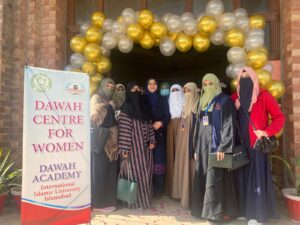 Dr. Faryal Ambreen in her address said that DCW's 25 years long efforts are the source of a meaningful change in society.
On the occasion, Dr. Noreen Sehar, chairperson Anthropology said that DCW is a vital asset of Muslim World. Incharge Dar al Muneera Dr Sajda Jameel ,  Dr.Fareed  Brohi, Dr.Ummat al Aziz also spoke on the occasion and highlighted the importance of Dawah Academy.