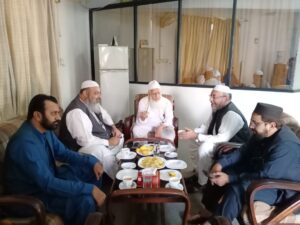 Renowned Islamic Scholar from Durban University South Africa, Professor Dr. Syed Salman Nadvi visited Regional Dawah Center (RDC)Sindh, Karachi, Dawah Academy, International Islamic University, Islamabad.
He was also accompanied by Maulana Fahmul Hasan Thanvi, President of Majmaal Uloom-ul-Islami Punjab. In-charge Regional Da'wah Center (Sindh) Karachi.
Dr. Syed Aziz ur Rehman welcomed the guest and informed about the Da'wah and educational activities of the center. On this occasion, Dr. Syed Salman Nadvi appreciated the Da'wah Academy's activities and said that he has been familiar with the Academy for a long time and was particularly impressed by their services in South Africa. He said I get the opportunity to participate in their programs, I have had the opportunity to attend the IIUI and Dawah Academy's main office in Islamabad many times. He said he was very happy to visit the center and experience its scope and nature as it is serving the society in best manner.
He said the Regional Center of Dawah Academy is doing significant work in the field of Da'wah in Sindh and Balochistan and the current situation demands that the role of Da'wah and academic works should be expanded further, and the duty of disseminating the message of religion to all classes in the correct form should be continued.