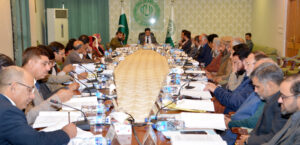 The 83rd meeting of Academic Council of International Islamic University, Islamabad (IIUI) was held at the New Campus of the University on Monday. The meeting was chaired Dr. Hathal Homoud Alotaibi, President, IIUI.
During the meeting President, IIUI urged the participants to make academic excellence a top priority and emphasized upon best utilization of available resources keeping in view modern modes of education to improve quality of education.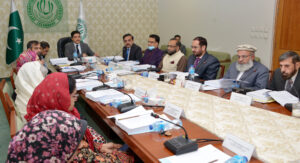 President, IIUI also reviewed various important topics, recommendations of various committees on given tasks pertaining to academic excellence and affairs related to research. The meeting was also attended by Vice President (A&F), Prof. Dr. N.B. Jumani, Vice President (Academics), Prof. Dr. Ayaz Afsar, Vice President (R&E), Prof. Dr. Ahmed Shuja Syed, Director Generals, Deans of faculties, HoD's senior faculty members and Directors and Secretary Academic Council Meetings, Prof. Dr. Nadeem Ahmad Sheikh / Dean Faculty of Engineering & Technology, IIUI.