Department of Psychology (Female Campus), Faculty of Social Sciences, International Islamic University Islamabad (IIUI) organized a seminar on "Mental Health as a Global Priority" at the Auditorium of Hazrat Fatima Block, Female Campus-IIUI.
This seminar was arranged to raise the awareness of mental health on the occasion of World Mental Health Day on 10th of October. Speakers of the seminar opined that mental health is as important as physical health, although the mind and body are often viewed as being separate, mental and physical health are actually closely related. Good mental health can positively affect physical health. In return, poor mental health can negatively affect physical health.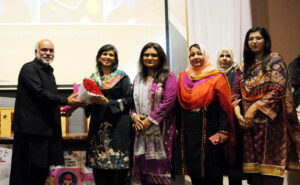 Dr. Uzma Masroor, Chairperson and Associate Professor, Department of Psychology, Air University was the chief guest in the seminar. Dr. Uzma is also Consultant Clinical Psychologist and Master Trainer of CBT, Hypnosis and NLP. Following that, she is also President of Pakistan Association of Clinical Psychologists (PCAP), Islamabad.
Addressing the seminar Dr. Uzma briefed the IIUI students about different lifestyle strategies that can improve their mental health and way of living. Dr. Uzma added that mental health includes psychological, social, and emotional well-being. It affects how an individual thinks, feels, and acts in their daily lives. The ability to handle emotions, stress, how to socialize with others, and making decisions are greatly determined by the psychological state.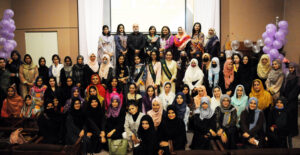 Prof. Dr. Zafar Iqbal, Dean Social Sciences also joined the seminar and enlightened the students regarding the importance of mental well-being. He said that mental health plays a huge role in general well-being and being in a good mental state can keep a person healthy.
The seminar was also attended by faculty members and a large number of students.