A Round Table Discussion which is the second event of the series on Grand National Dialogue that spotlights Sustainable Educational Development was organized by the Faculty of Education International Islamic University Islamabad, Pakistan and Islamabad Policy Research Institute on Tuesday in Allama Iqbal Auditorium, International Islamic University Islamabad.
Addressing the opening ceremony, Additional Secretary, Wasim Jamal highlighted the importance of access to education and mentioned important challenges like learning crises, and the need to focus on graduate attributes, skills development, educational reforms and quality education.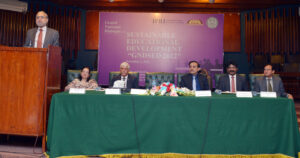 He said that the budget for education has been increased but still there is more to be done on the financial part. Stressing the importance of skills, he said blended education is the need of the hour, while he also apprised of the Initiatives taken by the ministry. He also discussed the issues of access and out of school children.
The seminar was also addressed by Brig R Rashid Wali Janjua, Director Research and Analysis, Islamabad Policy Research Institute who said that equal opportunity to education in the country is dire need adding that females have fewer opportunities and same is the case with citizens of rural areas. He called for an integrated approach suggesting that Madrassah students must be integrated. He mentioned details of Grand National Dialogues and the importance of dialogues.

The participants also showed concern towards out of school children, mentioning that around 20 million children between ages of 5-16 years are out of school, while the Gender Disparity in literacy rate is evident with male literacy rate being 73.4 percent and female literacy lingering at 51.9 per cent.
Vice President A & F Dr. N.B. Jumani who was representing the President, IIUI, thanked the secretary for his time and insightful thoughts and IPRI for collaboration. He stressed the need of Dialogues for improving the practices. He also elaborated the initiatives, activities and scope of the constituent units of university. He mentioned the key initiatives such as Paigham e Pakistan of IRI, training programs of Dawah Academy and Shariah Academy and dialogue activities by IRD. Dr Shamsa Aziz, Chairperson Faculty of education female campus thanked the panelists and participants for contribution.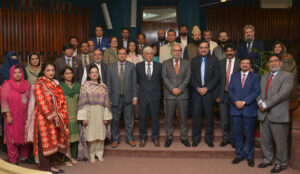 Earlier, Dean Education Muhammad Sarwar, apprised of the goals of and objectives of the activity. He highlighted the importance of policy making and prioritizing the sustainable goals for development of the education system.
Dr Azhar Mehmood, Chairperson Department of Educational Leadership and Management and focal person of the series of events was also present on the occasion along with faculty members.
Reimagining the futures together, there were three parallel round table sessions. Higher Education and Sustainable Development was moderated by Dr. Shamsa Aziz, Prof. Dr. Ashfaque Ahmed Shah, Dean, Department of Educational Development, University of Baltistan, Dr. Hafiz Muhammad Inam Ullah, Professor, Institute of Education and Research, University of Peshawar ,Prof. Dr. Irfan Rind, Head of Department (Education), IBA, Sukkur, Sindh, Maulana Dr. Zafar Iqbal Jalali, Principal, Jamia Islamia, Islamabad, Dr. Aamir Tuaseen, Rehmatullil Aalameen, Academy, Islamabad, Dr Batool Atta The University of Azad Jammu & Kashmir, AJK, and Dr. Fouzia Younus, Principal, IMCG Humak, Islamabad shared their views.
Education and Peace Building in Youth was moderated by Dr Muhammad Munir Kayani. Prof. Dr. Haroona Jatoi, Former Joint Education Advisor, Curriculum Wing Islamabad, Dr. Shafqat Munir Ahmad, Sustainable Development Policy Institute, Islamabad, Dr. Noor Fatima, Assistant Professor, Department of Politics and International Relations, IIUI, Dr. Abid Gil, Deputy Chief Advisor, JICA.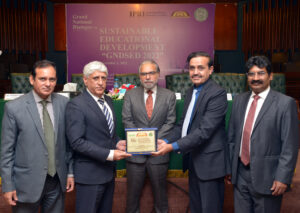 Education and Emerging Needs of Society was moderated by Dr Shazia Naureen. The panelists included Dr. Iftikhar Hussain Shah, Additional Director General, Technical Education and Vocational Training Authority, Head Office Lahore, Dr. Azhar Mahmood Chairperson, Department of Educational Leadership and Management, IIUI, Dr. Shafquat Hussain Janjua, Area Education Officer Federal Directorate of Education, Islamabad, Dr. Ali Bangash, Assistant Director, FGEI (C/G) Directorate GHQ Rawalpindi, Dr. Muhammad Azhar, Deputy District Education Officer, Jand, Dr. Shahanshah Babar, Deputy District Education Officer, Kohuta, Rawalpindi, Dr. Babar Afzal, President, Private Schools Association, Islamabad
The recommendations of the Round tables discussions on Grand National Dialogue on Sustainable Educational Development were presented in the concluding ceremony. The Dean, FoE said that it is not only an integral part of sustainable development, but also a key enabler for it.
In the closing remarks Prof Dr. N. B. Jumani (Vice President A&F), IIUI appreciated the efforts of the team and mentioned that IIUI is looking forward to facilitating these debates in whatever way possible.