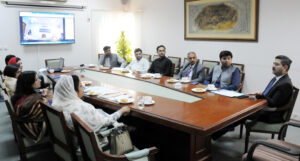 The University Advancement and Financial Aid (UAFA) of the International Islamic University Islamabad (IIUI) holds a meet up session of Allied Bank's Management with the university students who are the awardees of scholarships sponsored by ABL.
Mr. Shakir Akbar, Regional Head North, Mr. Umair Aslam, Manager Direct Sales and, Mr. Zafar Kamran, Branch Manager invited in this session while, Ms Nuzhat Zareen, Director (UAFA), IIUI along with Officials of (UAFA) Office were also present during the meeting.
This meetup secession was convened by the office of University Advancement and Financial Aid (UAFA) on Friday October 28, 2022 here at main campus of the university.
As per details provided by (UAFA), IIUI a MoU signing ceremony among International Islamic University, Islamabad (IIUI) and Allied Bank Limited through the University Advancement and Financial Aid (UAFA) of IIUI was held back on the June 13th, 2016, in which the Allied Bank Limited (ABL) had provided IIUI an amount of Rs.4 million for the establishing an Endowment Fund for IIUI students.
The prime objective of this donation is to provide Financial Assistance to the students of IIUI and for the capacity building projects / programs for the direct benefit of students out of the proceeds of Endowment Fund.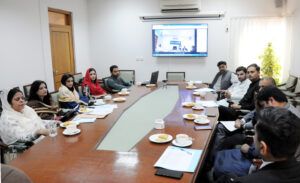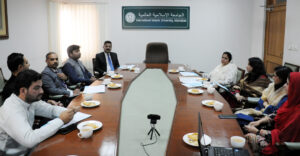 Presently, out of the eight sponsored students, seven students have completed their degrees. Last week, the Allied Bank's (ABL) management had a meet up activity with those students who have completed their degrees.
On this occasion, the ABL management appreciated the outstanding academic performance of ABLIIUEF scholarships sponsored students and further assured to support them in their future.
The Director (UAFA) motivated the students to pay back to society with the same support as they have received from ABL and University.
During the meeting the management also discussed other avenues of mutual interest on this occasion.