Ambassador of the Bosnia and Herzegovina H.E. Sakib Foric along with Director Foreign Affairs and Diaspora Razim Colic called on Prof. Dr. Masoom Yasinzai, Rector , International Islamic University  (IIU) at his office at New campus.
The meeting was also joined by Dr. N.B. Jumani, Vice President Administration and Finance, Dr. Ahmed Shuja Syed, Vice President Research and Enterprise and Dr. Ayaz Afsar , Vice President , Academics along with the Deans of the various faculties.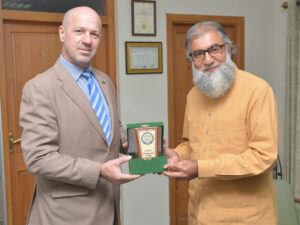 In the meeting, issues pertaining to collaborations and mutual cooperation  between IIUI  and Islamic community of Bosnia and Herzegovina  were discussed. The Ambassador and the Director both briefed about the  parliament of Bosnian Muslims and constitution of the parliament of the Muslim community, its vision and nature of work with the harmony towards the overall setup that is being run by the state.
The IIUI Rector welcomed the interest of Bosnian Muslims in IIUI saying that university has many students on mentionable places serving the Balkan states upon which Mr. Razim Colic told that he is also an IIUI Alumnus.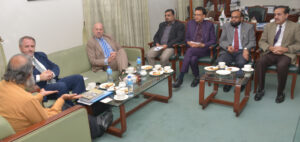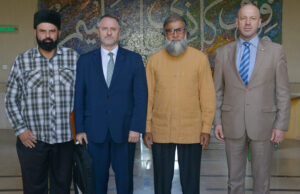 The IIUI Rector assured of maximum support to the Bosnian Muslims in terms of academic joint ventures, students exchanges, while he also emphasized that there is also a need to have exchange of the experiences between the religious seminaries of the both countries.
The Ambassador hailing the services of IIUI told that there are many IIUI Alumni who have been serving on key position in the Balkan region. He also appreciated the eagerness of IIUI to enhance bilateral cooperation in research, skills, education and exchange of delegations.