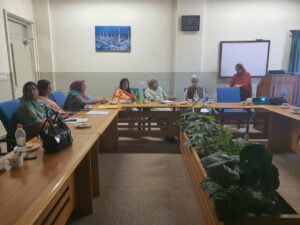 Ms Sameena Humayun Khan, a scholar from Department of Psychology, Faculty of Social Sciences, FSS of the International Islamic University Islamabad (IIUI), has successfully defended her PhD Dissertation titled "Efficacy of Narrative Exposure Therapy among traumatized women victims of husband's violence" under the supervision of Dr. Mamoona Ismail Loona, Assistant Professor at Psychology Department, International Islamic University Islamabad (IIUI).
The external examiners include Prof. Dr. Anees-Ul-Haqe, Department of Psychology, National University of Modern Languages (NUML) Islamabad and Prof. Dr.  Shazia Khalid, Department of Psychology from National University of Medical Sciences (NUMS) Rawalpindi.
The main focus of the study was violence carried out by husbands against their wives and its association with Posttraumatic Stress Disorder in women victims of violence as women in Pakistan are at a greater risk of developing serious psychological problems and having poor mental health as a consequence of being exposed to repeated episodes of physical, psychological, and sexual violence carried out against them by their husbands. The study is important for two reasons: firstly, this study extends what we know about patterns of intimate partner violence and its association with PTSD. Secondly, this study has investigated the efficacy of therapeutic intervention i.e. Narrative Exposure Therapy (NET) among traumatized female victims of husband's violence which is directly related with a person's overall well-being and desire to survive. Early and effective interventions at larger community level are required to stop violence against women.