A Two-Day National Conference on Diamond Jubilee celebrations of Pakistan commenced here at the Faisal Masjid Campus of the International Islamic University Islamabad (IIUI).
The conference has been organized by the Department of History & Pakistan Studies in collaboration with Higher Education Commission Islamabad. More than 50 eminent scholars, historians and researchers from across the country are presenting their papers in the Conference.
Addressing the Inaugural Session as a chief guest, Vice President (Academics) Dr. Ayaz Afsar, said "you may think it is a strange moment to be celebrating a Jubilee when Pakistan is facing a crisis. I want to extend my sympathy to the victims of the floods".  He said the University has taken steps to help those affected by the flood. He said it is the right time that we take time during this time of emergency to reflect on the past 75 years. He added we have overcome many challenges like 1965 war, 1971 war, 2005 Earthquake disaster and I am confident that we will overcome these challenges too.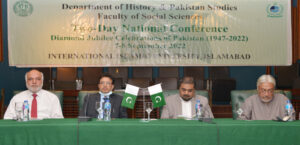 Dr. Syed Jafar Ahmed, Director of Pakistan Studies center University of Karachi delivered the keynote address on the inaugural section on the topic of the conference.
Vice President, Higher studies and Research Dr. Ahmed Shuja Syed and Dean Faculty  of Social Sciences Dr. Zafar Iqbal while speaking on the accession highlighted the importance of the event and stressed upon the creation of attraction for students in heritage and historical places.
Dr. Mujeeb Ahmed, Chairman, Department of History & Pakistan Studies, during the welcome address presented Introduction of the Conference. He said the National conference of the Diamond Jubilee celebrations of Pakistan is the  first of its kind to be conducted by any University across the country.
This national conference on the History of Pakistan is a first step in its long endeavor to provide an academic and research-oriented platform to the academicians, scholars, policy makers and student to meet at a two day  conference under the academic umbrella of the International Islamic University Islamabad.