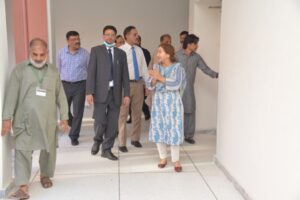 Vice Presidents of the International Islamic university, on the directives of H.E. Hathal Homoud Alotaibi, President, IIU,visited the construction sites at the new campus and reviewed the ongoing development.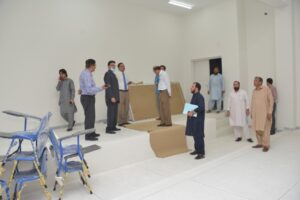 Prof. Dr. N B Jumani Vice President (A&F), Prof. Dr. Ayaz Afsar Vice President Academics, Prof. Dr. Samina Malik Vice President Female Campus were accompanied by Mr. Amir Ishtiaq, Additional Director (P&D) and other relevant officers.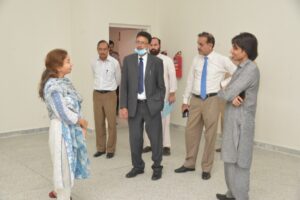 The Vice Presidents were briefed on the construction of the academic blocks at International Islamic University, H-10 Campus under PSDP Project titled, "Expansion and Up gradation of IIUI". The Resident Engineers of Consultants gave a briefing and informed the construction work in the view of the deadline given.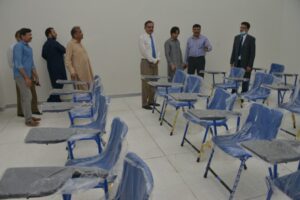 On the occasion, it was conveyed that H.E. Hathal Homoud Alotaibi has desired that the university's top priority is to make the newly built blocks operational as soon as possible. Dr N.B Jumani said that the Worthy President has directed that the newly admitted students must be facilitated in the best manner while space allocation and other allied arrangements of the shifting of classes in new construction sites must be made in exquisite manner.
Vice Presidents advised to boost up the progress and achieve targets without compromising on the quality and the workmanship. They desired that expedited work with no delay must be carried out.
It is pertinent to mention here that one of the academic blocks at male campus will house the Civil Engineering Department and Faculty of Social Sciences. One academic block, at the women campus will house faculty of social sciences and faculty of management sciences. The third academic block will be shared by male and female students and it will have centralized laboratory facilities.