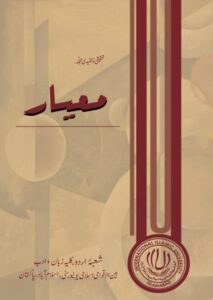 The Research Journal Me'yar, hosted by Department of Urdu, IIUI has attained recognition by the Higher Education Commission and has been placed in the Y-category. The journal has been published since 2009. Me'yar is known for its renowned national and international contributors as it has a prominent place among the journals of languages and literature.
The Journal has gained a strong reputation for its quality publications in the field of literature and linguistics and has striven hard to maintain international standards of excellence and quality. The editorship of the journal had been in the hands of famous personalities of languages and literature including Professor Dr. Rasheed Amjad and Professor Dr. Moeen ud deen Aqeel.
With Dr. Professor Dr. Najeeba Arif as its Editor-in-Chief, Dr. Aziz Ibn ul Hassan as its editor, Dr. Kamran Kazmi and Dr. Bibi Ameena as co-editors, the journal has endeavored to fulfill all HEC requirements. The Chairman of the Department of Urdu has hailed the efforts of the faculty members of the department and Mr. Muhammad Ishaq for his untiring efforts. He has also thanked the researchers, linguistic and literature experts, and the readers for the feedback and encouragement adding that this interest has led this journal to the destination of success.
For further information, please check the links: http://irigs.iiu.edu.pk:64447/ojs/index.php/jcp/index and https://www.iiu.edu.pk/?page_id=24011.