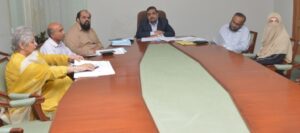 The 4th meeting of IIU Journals Steering Committee (IJSC) was held at IIUI News Campus, under the Chairmanship of the Vice President (Research & Enterprises), Prof. Dr. Ahmed Shuja Syed, International Islamic University Islamabad (IIUI).
The Committee discussed the draft of "IIU Policy on Books & Manuscripts Writing and Publications" in detail and made valuable suggestions to refine the Policy draft. Moreover, relevant cases of Research Journals were also discussed and decided in the meeting.
The meeting was attended by Prof. Dr. Muhammad Irfan, Dean FBAS, Prof. Dr. Najeeba Arif, Dean, FLL, Prof. Dr. Abdul Rasheed, Director General, IIIE, Prof. Dr. Zia Ul Haq, Director General, IRI, Dr. Muhammad Ilyas, Director General, Dawah Academy, representatives of Dean Faculty of Social Sciences, FSS, Editor IJITL and Officials of ORIC, IIUI.