INTERIOR MINISTER HAILS EFFORTS OF IIUI FOR PROMOTION OF EDUCATION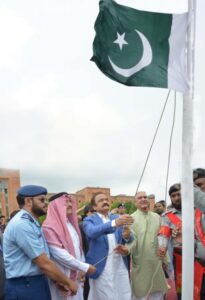 Pakistan is the center of hopes of the Muslim Ummah, said Federal Minister for Interior, Rana Sana ullah Khan on Friday, addressing a  flag-hoisting ceremony held in connection with the Independence Day celebrations at the International Islamic University Islamabad (IIUI).
Rana Sana ullah also planted a sapling in front of the university administration block as a part of ongoing tree plantation campaign. He was apprised that August 5th was also the last date of the admission campaign of the university.
He said that on August 5, India caused another blow to the rights of Kashmiris. It is a day to express love for Pakistan and show solidarity to the people of Kashmir. He said that the struggle for the freedom of Kashmir will be successful. The Interior Minister added that the country is the fruit of the sacrifices of our forefathers. Rana Sanaullah said that we are the people who die in the honor of the Holy Prophet (PBUH). Rana Sanaullah further said that Pakistan came into existence in the name of Allah and Kalima e Tayyaba.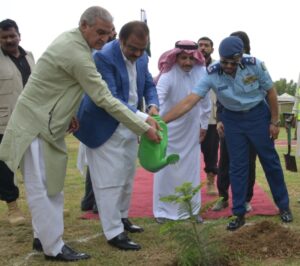 Referring to Pakistan-Saudi relations, he said that Pakistan is grateful to Saudi Arabia and the custodians of the two holy mosques for cooperation. Rana Sanaullah said that Pakistan is returning to the path of development. He said that the efforts of the International Islamic University in the field of education are commendable.
On this occasion, General Secretary of Pakistan People's Party Punjab Chaudhry Manzoor Ahmad said that International Islamic University is a galaxy of students from different countries. Chaudhry Manzoor Ahmed said that we are lagging behind in research. He said that the country's economy is suffering and we need to come out of this crisis together. Chaudhry Manzoor Ahmed said that the next decade belongs to the Middle East. Gen. Awad Bin Abdullah Al-Zahrani, Defense attaché, Kingdom of Saudi Arabia was also present on the occasion.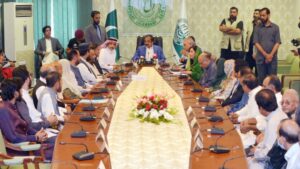 Dr. Hathal said that celebrations of Independence Day are the manifestation of one Nation, one destiny based on the principles of social justice, self-determination and equality.  He added, in its 75 years, the Pakistani nation has witnessed many challenges and measured up to each one with resilience, resolve and pride. "Pakistan today is a country that exudes confidence and is brimming with promise" he said.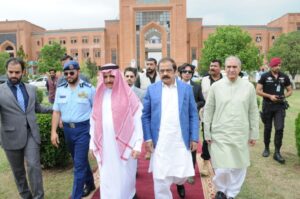 IIU President said that education is always a key to success and universities are the torch bearers of a nation that moves towards the destination of success and prosperity. He reiterated his resolve that International Islamic University will be among the leading ranks to make Pakistan proud across the nations through its skilled youth, research and academic excellence. On this occasion, Vice Presidents, Deans, Students Advisors,  Provosts and other relevant officials of International Islamic University were also present. Foreign students studying in the university also participated in the event.