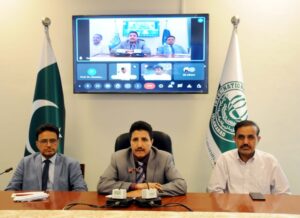 Online Alumni meet up at International Islamic University (IIU) based on the theme of reconnect with Alma Mater and admission campaign, concluded here on Thursday with an agreed point that  gap between academia and industry should be bridged by providing opportunities to the university students  through benefiting the key university Alumni.
Dr. Hathal Homoud Alotaibi, President IIU announced on the occasion that soon the university will hold an on campus Alumni conference. He said this is just a beginning and this re-connect will work as a milestone to set the university to the new journey of success with the help of  its valuable  Alumni.  Referring to the suggestions of the participants, Dr. Hathal said that the university in its Shariah Academy will soon launch an international fellowship. He added that IIU has plans to expand its outreach with the latest approaches and trends. He said that IIU is proud of its Alumni who are the real asset of the university.  IIU President, while thanking all the Alumni, assured that constructive suggestions must be encouraged and university will be in touch to exchange the experiences with the Alumni and bring positive results for the betterment.
The meet up was also attended by Dr. Ayaz Afsar, Vice President Academics, Dr. N.B. Jumani and Deans of the faculties of the university.

The meet up witnessed valuable suggestions from speakers  such as the need for the adoption of the modern techniques for teaching and learning, compatibility of the syllabi, encouragement of innovative ideas and promotion of critical thinking. The Alumni meet reflected a galaxy of the professionals hailing from all walks of profession as dozens of professions were witnessed being represented by IIUI Alumni from Law and enforcement to telecom in addition to media and economy.
The speakers and participants of the online meet-up included Justice Dr. Syed Muhammad Anwer, Chief Justice Shariat Court, Mr. Inayat Ullah, Ex Provincial Minister, KP (Current MPA), Mr. Javed Jadoon, General Manager Mari Gas & Petroleum, Mr. Khalid Gill,Vice President ZTBL, Mr. Khurram Ishaq, Director Business Development, Zong, Mr. Amir Malik, Sr. Manager Procurement Pakistan Railway, Mr. Mehmood Ul Hasan, Manager Business Analytics Department, Ufone, Mr. Imtiaz Ahmed, Addl. Director Islamabad Safe City Police Project, Mr. Asim Nawaz, Director Services TDAP, Dr. Syed m. Anwer, Justice, Federal Shariah  Court, Mr. Muhammad Arshad Mehmood, Operations Manager, Bank Al Habib, Mr. Bilal Farooq, Consulting Business / Founder, Consulting 360, Mr. Aajih ullah, Communication Manager, Institute of Peace and Diplomatic Studies, Islamabad, Mr. Muhammad Kashif Saleem, Sr. Manager Learning Technologies, Agha Khan Education Services, Pakistan, Ms Fatima Nasim, Assistant to President and CEO, Ericsson, Mr. Rafaquat Ali, Assistant Private Secretary, Pakistan Meteorological Department, Prof. Dr. Muazzam Ali Khan Khattak, Professor and Director ICESCO Chair Data Analytics and Edge Computing, Quaid-i-Azam University, Islamabad, Ms Abida Fafique, Chairperson ARFK, Mr. Saleem Arshad, Deputy Director, Punjab Small Industries Corporation, Mr. Nadir Shah, Associate Professor, Comsats University, Wah Campus, Mr. Arshad hayat, Assistant Professor of Economics, metropolitan University Prague, Czechia, Mr. Mazzammal Hussain, Consultant at International Atomic Energy Agency, Mr. Muddasar Saeed Bancassurance Sales Consultant, EFU Life Assurance Ltd., Mr. Sarmad Elahi, Assistant Director State Bank of Pakistan, Ms Hafsa Mahmood, Teaching Assistant , Aarthus University, Denmark, Dr. MAshraf Al Haq, Post-Doctoral Fellow, UUM Malaysia, Mr. Muhammad Inzemam Khan, Advocate / Associate Criminal Litigations, Awami Law Chamber, KP, Mr. Shahid Naeem, Chief, Ministry of Planning, Dr. Yaser Aman Khan, Advocate Supreme Court of Pakistan, Dr. Hidayatullah Khan, Assistant Professor,, BUITEMS, Mr. Taufiq Asif, Advocate Supreme Court, Member, Punjab Council, Mr. Aftab Civil Judge, Lahore High Court, Dr. Uzma Siraj, Assistant Professor, Head Dept. of IR, FUUAST, Ms Mehwish Qamas, News Reporter, AUR nes network / Freelancer, Ms Momina Dar, Sr. HR & OD Consultant / Life & Leadership Coach, BTIL Academy, Mr Mazhar Ali Khan, Civil Judge KP, Mr. Waqqas Ahmad, Director, Strategy and Reporting, Agha Khan University and Hospitals, Mr. Muhammad Hassan Raza, PhD Student, North Carolina A&T State University, Mr. Wahidullah Azizi, Program and Advocacy, European Council for Refugees and Exiles, Mr. Sheraz Ahmad Sherazi, reporter / Anchor, NEO news.