IIUI 11TH CONVOCATION: 6726 DEGREES, 108 GOLD MEDALS CONFERRED ON FEMALE STUDENTS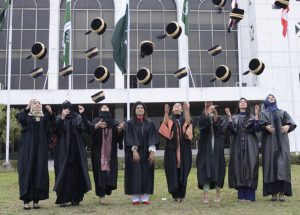 As many as 6726 degrees and 108 gold medals were conferred on female students on the second day of 11th convocation of International Islamic University Islamabad (IIUI) in a ceremony arranged for female students on Thursday.
According to details, in the 39 years long history of IIUI, it was 11th convocation in which total 13111 degrees were conferred on male and female students. After this convocation, IIUI's total produced degree holders' number will reach to 51113. University conferred 206 PhD degrees on students, while total number of IIUI's PhD students reached to 419. A total of 319 students were awarded gold medals in the two-day long mega event.
In the ceremony, IIUI Rector Dr. Masoom Yasinzai, IIUI President Dr. Ahmed Yousif Al-Draiweesh along with IIUI Vice Presidents conferred gold medals and degrees on the students.
After conferring PhD degrees and gold medals on IIUI student, Dr. Masoom Yasinzai, in his speech called for major changes in conducting research, content of curricula and teaching methodologies. He said that societal relevance is the major objective of IIUI because national challenges can be dealt with best solutions given by educational institutions.  "We need to produce graduates for job market with an emphasis on entrepreneurship education for youth" said Professor Masoom.
Talking about IIUI and its vision, he said that a major shift taking place in the University's academic programmes is towards Science and Technology, in consonance of the national priorities as well as the needs of the Muslim Ummah.
"To achieve this objective, the University in addition to the establishment of Sciences & Engineering based faculties has set up Al-Farabi Research Centre which is involved in problem-solving research" he said.
This is a recent trend and we are happy that IIUI has taken this initiative" he said. He furthered that over the last one decade, this university has had a very rapid growth and the physical capacity has shortened.  "We are grateful to the brotherly countries who have provided 52 highly qualified teachers, such as 30 teachers from Al-Azhar University in Cairo, the Scholars from Saudi Arabia and Sudan, who are significantly augmenting the number and quality of teachers in our Islamic Faculties" Dr. Masoom said.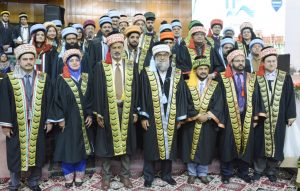 IIUI President Dr. Ahmed Yousif Al-Draiweesh said that IIUI has managed to win the confidence of parents and reason for this rapid growth in the enrollment of female students is a separate exclusive campus for female, which meets the standards of Islamic norms, traditions and culture.
He said that  IIUI is a prestigious scientific institution that has an enrolment of more than 31,000 students from 45 nationalities in nine faculties and 42 teaching departments and a Centre of excellence in Technology, Interdisciplinary research and advanced labs.
"Among the most important achievements of the university is the preparation of the Message of Pakistan titled "Paigham-e-Pakistan" calling for security, safety, and peace spreading the teachings of Islam aimed at moderation, peaceful coexistence and social security" said IIUI President. He told that The Executive Council of the Federation of the Universities of the Islamic World has also approved the establishment of the International Center for Tolerance and Peaceful Coexistence in cooperation with the International Islamic University Islamabad and the Islamic Educational, Scientific and Cultural Organization (ISESCO).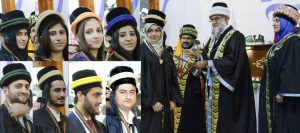 He hoped that these graduating students will serve their respective communities in the fields of their specializations with best efforts and skills for which they have been prepared with all sincerity and dedication, imbued with full commitment to Islamic principles, standards and ethics.
Earlier, Dr. Tahir Khalily thanked IIUI high up and congratulated the parents and students for 11th convocation. He said that the major challenge is to equip youth with knowledge, skills and values. He said that IIUI is keen to nurture youth according to the challenges of future and introduce them to Islamic values as well.
The ceremony was also attended by Vice President female campus, Dr, Farkhanda Zia, vice President Administration and Finance, Dr, Muhamamd Munir, Vice President Academics Dr. Muhammad Tahir Khalily, Vice President Higher Studies and Research Dr. Aqdas Naveed Malik, IIUI scholars, researches, teachers and other relevant officials.
The enthralled students' audience paid rich tributes to the teachers and thanked parents for providing them quality education.