National Student Software Accessibility Portal (NSSA)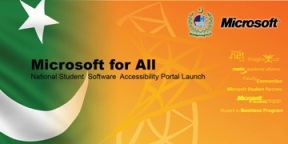 Microsoft has taken initiative of providing free Microsoft software for personal use as part of Academic Alliance via HEC. In this regard a National Student Software Accessibility Portal (NSSA) has been created. NSSA is a web-based software distribution and management application hosted by e-academy, Microsoft. The portal enables you to directly download the Microsoft software from the portal. You can download and activate it for your personal use. The portal is available to international Islamic University as part of Academic Alliance with Microsoft through HEC.
To get yourself registered on this portal, Apply Online. IIU email address is required to access this form. For problems and queries please send an email to to Mr. Junaid Azhar [email protected] through your IIUI email account alongwith the screen shot.
Please note that the software's provided by National Student Accessibility Portal have been downloaded and placed in a shared folder on LAN. The process to install them is given below.
Please go to run and enter \\software\Microsoft Portal Softwares
All of the Software's are available there, you can install the software from there. For activation login to the NSSA portal and copy paste the key from there by clicking the respective software. The only difference is that now you don't have to download the software from online portal.
ELMS for MSDNAA Introduction and Overview
Tutorial to Download Software from ELMS (unofficial)
How to Download Software from ELMS
Contact Person to Microsoft
| | |
| --- | --- |
| Male | Female |
| Dr. Zahid Mahmood | Ms. Salma Imtiaz |
| Deputy Director | Assistant Professor |
| Examination | FBAS, DCS&SE |
Print This Page