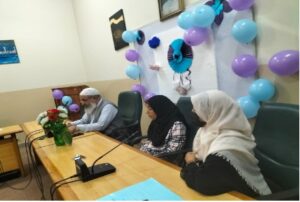 Tajweed ul Quran course for female students organized by the Faculty of Arabic, International Islamic University Islamabad (IIUI) concluded. The ceremony was attended by senior faculty members and a large number of students from the Faculty of Arabic, Female Campus of the university.
Addressing the closing ceremony, Dean of the Arabic Faculty, Dr. Fazlullah, highlighted the importance of Tajweed ul Quran and its rules. He emphasized that this course aimed to equip readers with the skills to recite and comprehend the Quran without any ambiguity. Dr. Fazlullah expressed his hope that such beneficial programs would continue under the guidance of the Faculty, ensuring the continuous fulfillment of the spiritual needs of Muslims.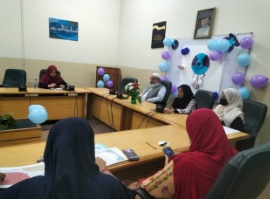 The course, focusing on the rules of Tajweed, was expertly taught by Professor Dr. Sawsan Hassanein, a renowned foreign faculty member of Arabic Studies. During her address, Professor Dr. Sawsan provided an overview of the course content and her teaching methodology. She emphasized the significance of authentic recitation and pronunciation of the Holy Quran, pledging her dedication to actively contributing to future similar activities.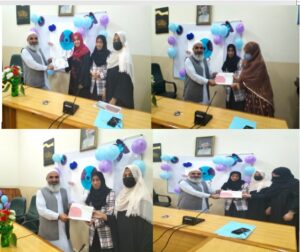 Dr. Samia Nazish, the Incharge of the Faculty of Arabic, in her address shed light on upcoming initiatives. She expressed her gratitude towards Professor Dr. Sawsan for her unwavering commitment and passion in delivering the course, as well as thanked the distinguished guests, including the Dean of the Faculty, for gracing the occasion with their presence. Dr. Samia also extended profound congratulations to all the course participants for their successful completion of the program.
At the end of the ceremony course completion certificates were awarded to the diligent participants who had attended classes regularly, displaying their keen interest and deep love for Allah and His Holy Book, the Quran. The recipients were recognized for their dedication and commitment to learning the rules of Tajweed, further enhancing their connection with the divine text.
Dr. Fazlullah in his concluding remarks said that Tajweed ul Quran course and the subsequent certificate distribution is a testament to the Faculty of Arabic's unwavering commitment to promote religious and linguistic education.