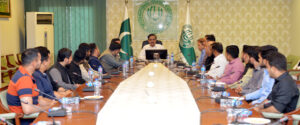 A delegation of the participants of 38th Human Resource Development course arranged by Dawah Academy for the officers of Pakistan Forces (Army, Navy and Airforce) visited the new campus of International Islamic University (IIU). The course participants were officers of the Pakistan forces who have been inducted this one month long course of Dawah Academy. The delegation was led by Incharge Training Department, Dr. Abdul Fareed Brohi.
Speaking to the delegation, Vice President Administration and Finance, Professor Dr. Nabi Bux Jumani hailed the services of the forces of Pakistan. He said forces of Pakistan are pride of nation. He also appreciated that Dawah academy has been arranging important courses of Islamic orientation. He elaborated the university vision, its history and future objectives. He also shared university's vision of progress and apprised of the latest steps taken by the University for Academic Excellence. Sharing his experience as an educationist, Dr. Jumani enlightened the participants about role of higher education institutions in society building and importance of behavioral changes through education. He also shed light on the inculcation of Islamic thoughts in young minds and importance of guidance from religion in our daily life routine.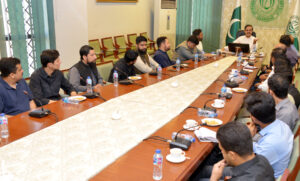 The participants took keen interest in the university's faculties, degree programs, training and research projects, while they also termed the course of Dawah Academy as one of the most constructive activities in their lifetime. Later, the delegation also visited the central library of the university.
[11:58, 19/05/2023] Nauman Awan Sb: Round Table Talk on Sustainable Educational Development
A round table talk on Sustainable Educational Development was held at Islamabad Policy Research Institute (IPRI), Islamabad in collaboration with Faculty of Education, International Islamic University Islamabad (IIUI) to review the final report of a series of Grand National Dialogue held on the 17th of October 2022, 1st of November 2022, and the 21st of November 2022. Senator Engr. Rukhsana Zubari, Member Senate Standing Committee on Federal Education & Professional Training was chief guest. Ambassador Dr. Raza Muhammad, HI (M), President of IPRI chaired the event. Brig (R) Dr. Raashid Wali Jangua, Director Research, IPRI moderated the sessions. Prof. Dr. N.B. Jumani, Acting President headed the IIUI delegation. While addressing the forum Dr. Jumani added that there is need to promote quality education and capacity building of teachers, particularly in far flung areas of the county.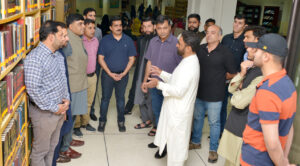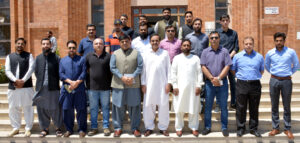 Former Ambassador Asif Durrani, Prof. Dr. Haroona Jatoi, Former Joint Educational Advisor, Curriculum Wing, Dr. Mariam Chaughtai, Prof. Dr. Samina Malik, Vice President, Female Campus, IIUI were included among experts. Prof. Dr. Muhammad Sarwar, Dean, Faculty of Education presented the recommendations of the series of dialogue. Dr. Azhar Mahamood, Chairman, Department of ELM, Dr. Shamsa Aziz, Chairperson Department of Teacher Education, Dr. Muhammad Zafar Iqbal, Incharge, Department of Teacher Education. Dr. Munazza Mahmood, Dr. Zarina Akhatar and Dr. Fouzia Ajmal were included in the IIUI delegation. A large number of students, researchers and media persons also attended the roundtable talk. All speakers focused on personality development and grooming of the students, highlighted the vitality of empowerment of youth by making them more responsible and critical thinkers. Speakers highlighted that we need to teach ethical norms, etiquettes, co-existence and tolerance to our youth. Honourable Ambassador Dr. Raza Muhammad, HI(M), President, IPRI appreciated the active role IIUI in arranging the Grand National Dialogue on Sustainable Educational Development and wished for further collaboration with Faculty of Education, IIUI.